3 Blade Sweeney Todd Razor & Blades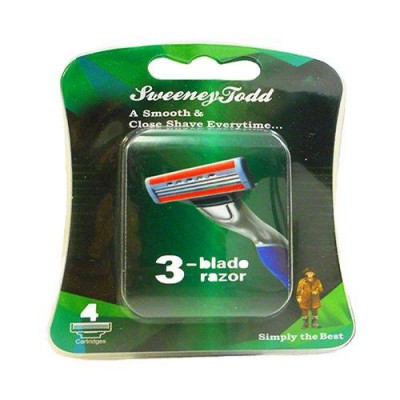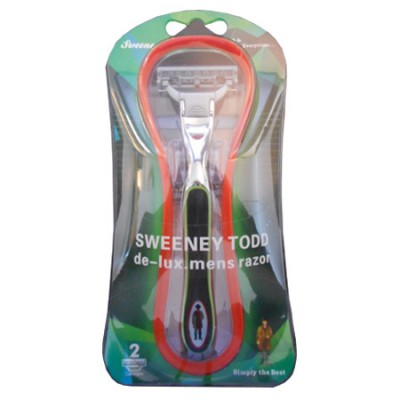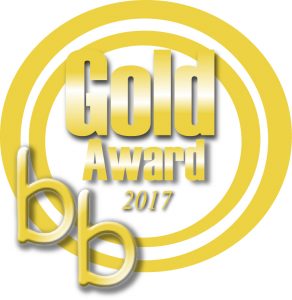 How our shaving product is different from other market products?
Most people think they have a good shave until we introduce them to our new razor! Then they realize what they have been missing every day! Now is the time to change. Our razors will give you the best shave ever – for up to three weeks per blade! Our blades feature ll new technology. There are no finer razor blades anywhere, and none sharper. The Lube Strip on all our razors is composed of a roll-over lubricant that makes the blades glide over the surface of your face in a smooth, easy stroke. As a daily or even occasional shaver you deserve it to yourself to experience the difference, our razor and blades can offer you each time you put the blade to your face.
Product Review
---
Product Tested By Christopher Hill
Christopher Awarded The 3 Blade Sweeney Todd Razor and pack of Blades 4.8/5
Nice packaging, bold and sleek but did also have a hint of non-premium about it? Packaging didn't scream premium to me, but I did like the packaging and how the product is marketed. Design very good and similar to other mainstream brands. The quality is very good and extremely impressed with it. The style is very good and very impressive. Perfect, the best that I have ever used in fact! So sharp that it was the first ever time I have cut myself shaving! I think I may have heard of this brand, but not for disposable razors. I was very impressed and represent very good value. Obtaining pack of extra blades with this razor certainly added to the great value. Such a good close shave! Extremely impressive. From any other razor, I believe they could all improve by adding the back bit like Gillette fusion do to get into all nooks and crannies. I will continue to use this. Would recommend as gave me best shave. Very good. Just believe the packaging needs a slight change to give it a more premium feel! The package doesn't blow you away but the shave it gives shall ensure the ladies do!

–Christopher Hill
---
Product Tested By Jordan Brown
Jordan Awarded The3 Blade Sweeney Todd Razor and pack of Blades 5/5
Looked good quality and sturdy. Packaging ideal for product and came with extra set of blades. Very well made and very good quality. Good design and style, easy to hold and certainly gave me a good wet shave. I was impressed. I had not heard of this brand of razor before but will be checking out the collection online. For the quality and the shave this delivers good value. I would recommend due to performance and value for money. Close shave for a low price.

–Jordan Brown
---
Product Tested By Bob Taylor
Bob Awarded The 3 Blade Sweeney Todd Razor and pack of Blades 4.7/5
Arrived in good protective case. Easily see quality of product and looked like well-made. Had not seen this brand before so was interested to see how performed. This is well designed easy to hold and certainly gave a close shave. I had to get used to using this and it was so effective I did manage to cut myself the first time I used this. Once you get used to the quality of this razor it certainly does a grand job. I was impressed by just how well this worked especially for the price. I had never seen this brand before but now I have tried it out will be looking to purchase more. I have recommended to my son and a few friends. A good clean, close shave and my wife certainly appreciated the results.

–Bob Taylor